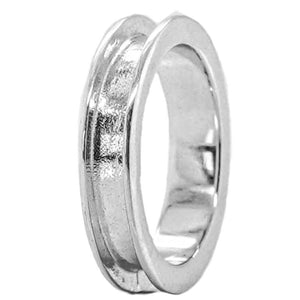 4mm Argentium Silver Ring Core Blank Channel Inlay
Argentium Silver 4mm Ring Core Blank
This is an elegant .965 ring blank created from Argentium silver. Argentium is a relatively new silver alloy developed specifically to resist tarnish. Your DIY ring creations will be stunning and clean!
Material: Argentium Silver
Color: Silver
Ring: 4mm wide x 2mm thick
Inlay Channel: 3mm wide x 1.5mm deep
Inner Fit: Flat
US standard whole and half size ring blanks available
Note: Measurements are approximate/close.
---