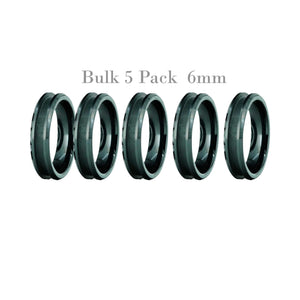 6mm Black Zirconia Ceramic Ring Core Blanks Channel Inlay Bulk 5-Pack
8mm Black Ceramic Ring Core Blank Channel Inlay Bulk 5-Pack
This is a package of five (5) beautiful black ceramic ring blanks. They are highly polished with beveled outside edges. The Zirconia ceramic material is tough and durable with hypoallergenic properties. A custom-made 4mm center channel groove is perfect for adding your inlay material, such as crushed opal. Perfect to create your own unique ring creations!
Material: Zirconia Ceramic
Width: 8mm width
Channel: 4mm wide x 1.2mm deep
US standard whole and half size ring blanks available
Note: Measurements are close/approximate.
---