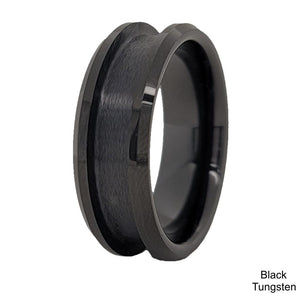 8mm Black Plated Tungsten Ring Core Blank Channel Inlay
8mm Black Plated Tungsten Ring Core Blank Channel Inlay
This gorgeous ring blank is made of Tungsten metal with black plating. A 4mm center channel groove is perfect for adding your inlay materials.
Material: Tungsten with heavy 14k gold plating
Color: Black
Ring: 8mm x 2.3mm
Channel: 4mm x 1.6mm
Fit: comfort fit domed
US standard whole and half-size ring blanks are available
Note: Measurements are close/approximate due to finishing and polishing procedures.
please take care not to scratch plating while sanding
Likes:
It was what I needed, and the customer service was great.
Improvements:
Shipping accuracy
Great Product, Shipping Was Tardy
Customer service was great at helping me get the ring I needed, even though it was a cancelled item and going out of stock. The ring core is great quality and looks awesome. Nothing to complain about concerning the product, but the shipping and tracking number was off. I was told it had arrived at my location, but it in fact did not arrive until 5 days later.
---
We Also Recommend
---