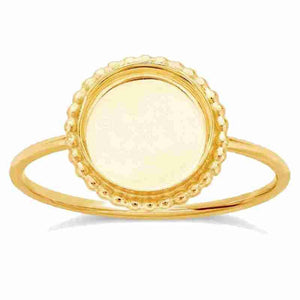 Beaded Round Cabochon Ring Blank Gold-Filled 8mm Bezel Mount
14/20 Gold-Filled 8mm Beaded Round Cabochon Ring Blank Bezel Mount
Create your perfect custom ring creation with this yellow 14/20 gold-filled cabochon ring blank. Fits an 8mm round gemstone in the bezel mount decorated with beads on the outer edge.
Setting type: Bezel
Mounting/bezel size: 8mm
Mounting shape: Round
Material: Metal
Metal type: Gold-filled
Karat: 14/20
Color: Yellow
Band/shank width: 1mm
US standard whole and half size ring blanks available
Note: Dimensions are close/approximate.
---