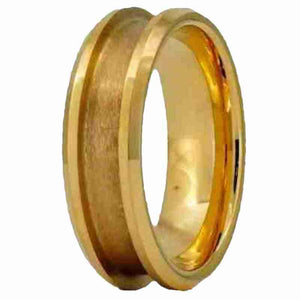 8mm Heavy Gold-Plated Tungsten Ring Core Blank Channel Inlay
8mm Heavy 14k Gold-Plated Tungsten Ring Core Blank Channel Inlay
This gorgeous ring blank is made of Tungsten metal and heavy gold-plated. We use a PVD vacuum coating process that provides a more durable wearing coating with superior scratch and corrosion resistance. A custom-made center channel groove is perfect for adding your inlay material like crushed opal.
Note that while the PVD coating allows for better durability, you still must take care of your jewelry to keep it looking brilliant.
Material: Tungsten with heavy 14k gold plating
Color: Gold
Ring: 8mm x 2.3mm
Channel: 4.1mm x 1.6mm
Fit: comfort domed
US standard whole and half size ring blanks are available
Note: Measurements are close/approximate due to finishing and polishing procedures.
Likes:
Quality of product and timeliness of delivery from purchase to receipt
8mm Heavy Gold-Plated Tungsten Ring Core Blank Channel Inlay
The core is beautiful. Can't wait to use it.
---
We Also Recommend
---