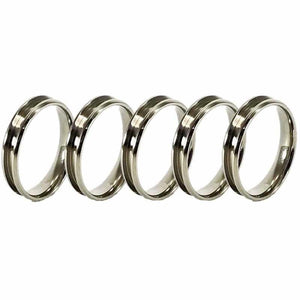 6mm Stainless Steel Ring Core Blanks for Inlay (Bulk 5-Pack)
Stainless Steel 6mm Ring Core Blanks for Inlay (Bulk 5-Pack)
This package of five (5) stainless steel 6 mm ring core blanks are pre-polished and ready for inlay to design your most creative DIY rings ever. These ring core blanks are an excellent option for creating custom wedding ring visions or gorgeous DIY rings for resale or as gifts for all your friends and family.
We use 316L stainless steel for these ring core blanks, and the inside is domed for a silky smooth comfort fit. Use your favorite materials to inlay, such as crushed opal or other precious/semi-precious gemstones or other materials. The sky is the limit on what you can create for gorgeous custom rings.
Material: 316L stainless steel
Ring: 6mm wide x 2.5mm thick
Channel: 3mm wide
Inside is domed for comfort fit
US standard whole and half size ring blanks available
Note: Dimensions are close/approximate. All ring core blanks in the package are the same size; no substitutions.
6mm Stainless Steel Ring Core Blanks for Inlay (Bulk 5-Pack)
Likes:
Fast shipping no issues ever
Improvements:
Nothing keep rocking
Love this place quality products
I have been ordering blanks and inlay from this place for over a year quality products super fast shipping and great prices over 50 blanks not one issue
Steel Ring Blanks for Inlay
All I can say is they are Great Rings
Likes:
Value and convenience
Improvements:
Everything is good
Likes:
Value and convenience
Improvements:
Everything is good
Great value
I love that I could order different sizes in the 5-pack. That makes it a great value and great for smaller businesses such as mine! Also, they have awesome customer service!
Likes:
Price and the way they wear
Improvements:
Maybe buy more, save more
Likes:
Best deal out there
Improvements:
Buy more in bulk and save more
A deal that can't be beat
Stainless steel ring core blanks are the best for the money. Not only that, they are very comfortable to wear and they won't rust.
---
We Also Recommend
---