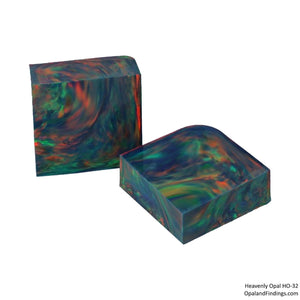 Heavenly Opal Slab Blank HO32
Heavenly Opal slab #32
created by mixing silica and resin. It results in a non-directional wave pattern that looks. The patterns and sizes of the waves are inconsistent, therefore, every piece is unique. The color might be influenced by the level of the waves. These slabs are cut to accommodate ring inserts or your other jewelry-making needs. The color chart and pictures are for reference only.
Type: Loose Stone
Material: Silica and resin
Color: red, yellow, and orange tones
Thickness: 8mm +- 1cm
Width: 25mm +- 1cm
height: 25mm +- 1cm
Chemical Resistance: Methanol
Glass Compatibility: not glass compatible
Considered imitation opal
Note: All blanks are rough cuts, It is up to you to finish them mad make them into the beautiful jewelry they need to be. Some pieces might have a single rounded edge and rough edges. If you have a specific application or ring insert size needed. contact us so we can help select the appropriate +or - size.
---
We Also Recommend
---